Quote of the Week
     "We need to look resolutely away from the impossibilities and to the Lord.  His help will come, though often it cannot break through to us until the last moment."
 The Bookshelf
This is a book that Susannah got for Christmas.
Not Regina
(by Christmas Carol Kauffman)
"The 1500s were stirring times in Europe. Luther nailed his ninety-five theses to a church door in Germany, exploding a powder keg of unrest that seethed for decades. Against this background, Regina Strahm found herself caught between two religious factions in Switzerland. Her parents repeatedly warned her against the Anabaptist heresy, but why then did Zwingli's official religion fail to satisfy? And why were the Anabaptists willing to die for their faith? Regina discovered why, and found a joy she had never before known."
Video of the Week
   Once again we bring you some of our very own videos : )  If you are prone to being motion sick, beware!  The young camera girls have a little bit to learn in how to move a camera : D  But these videos are cute nonetheless!  The "Interview" one is my favorite, and we would have just put that one on, but thought you might want to see what happened before the interview : )
Interview of the Wedding Guests
 The Recipe Box
Another Christmas recipe! (We also make it for Thanksgiving.) If you want to see a picture of it, go
HERE
and it is in the fourth picture on the left of the picture–the only casserole with crackers on it
Corn Casserole
4 C. whole corn
2 t. salt
1/2 t. pepper
2 C. milk
2 C. cracker crumbs
2 heaping T. sugar
4 T. melted butter
2 eggs, well beaten
24 whole crackers
Combine all ingredients except for whole crackers and put in a well-buttered 9″ X 13″ baking pan. Put the 24 whole crackers on top. Bake at 350º for 25 minutes.
 Farmgirl Favorites
      We have had the pleasure of knowing Miss Hannah in real life and she is a very sweet young lady!  And her blog is just as sweet as she is!  Check it out by clicking on the picture below.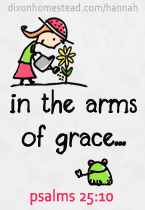 Cute Quotes
   On the way home from church one day Noah said to Leah:
"Leah, I think that semi carries lions or something because there was these ticket things, by the wheels, and they had lions on them, so do they?"
  Isaiah was quite concerned when we took down our real Christmas tree (which he calls a "CUMS-tree").  He kept asking what we were going to do with it.  We told him we were going to burn it, and then for the next 5 to 10 minutes he kept asking about everything else in the room…"We burn couch? we burn piano?" 
Several years ago, Bekah told me that she wanted eight children, 4 boys and 4 girls.  I asked her why not more than eight? : )
  "Because I only know eight names that I want to name them!" she replied.
She also told me that she thought that the best part of her wedding would be eating the cake.
    Note: The Seven Sisters Treasures is a weekly post where we share some of our favorite things.  We try to post  a new one every Friday.  Hope you enjoy!  ~The Farmgirls 
Subscribe to get our blog posts in your inbox!
Seven Sisters Treasures #20