Quote of the Week
          "Jesus sees the cries of our spirit, and actually defines us by our budding virtues. He does not define us by our struggles, He defines us by the cry in our spirit to say "Yes" to Him."
The Bookshelf
Julie from Maine asked us in aprevious post if we could list the books that were on our shelf 😀  So we decided that instead of only posting about one or two books like we usually do, we'd give the titles of everything we have on that shelf : )   We love books and are happy to share the titles with you all!   Beware…it's long!
Girl of the Limberlost ~ Gene Stratton Porter
Freckles ~ Porter
The Lamplighter ~ Cummins
Pollyanna ~ Eleanor Porter
Pollyanna Grows Up ~ Porter
That Printer of Udells ~ Harold Bell Wright
Little Women ~ Alcott
The Quiet Little Woman ~ Alcott
The Hidden Hand ~ E.D.E.N.  Southworth
The Lost Clue ~ Walton
The House of Love ~ Elizabeth Cheney
"WE" ~ Charles Lindberg
Robinson Crusoe ~ Defoe
Hinds Feet on High Places ~ Hannah Hurnard
Mountains of Spices ~ Hurnard
The Wide, Wide World, volumes 1 and 2 ~ Susan Warner
Home Comforts ~ Cheryl Mendelson
Keep A Quiet Heart ~  Elliot
The Island Queen ~ R.M. Ballantyne
Evidence Not Seen ~ Darlene Deibler Rose
Dorie: The Girl Nobody Loved ~  Dorie Van Stone
The Basket of Flowers ~ Christoph von Schmid
Rosa of Linden Castle ~ Schmid
Little Faith ~ O.F. Walton
Princess Ka'iulani ~ Linnea
To Have and To Hold ~ Johnston
Colonel Thorndyke's Secret ~ G.A. Henty
Treasure of the Incas ~ Henty
The Cat of Bubastes ~ Henty
With Lee in Virginia ~ Henty
Captain Bayley's Heir ~ Henty
The Art of Illumintation ~ Patricia Carter
101 Motifs for Thread Crochet
Rodale's Illustrated Encyclopedia of Herbs
Daughters of Destiny ~ Wheeler
Teatime Treasures ~ T.J. Mills
Come to My Tea Party ~ Sandy Lynam Clough
Let's Have a Tea Party ~ Emilie Barnes
The Very Best Christmas Ever ~ Barnes
Alone Yet Not Alone ~ Leininger
Before You Meet Prince Charming ~ Sarah Mally
Relic Quest ~ Robert Cornuke
Ark Fever ~ Cornuke
A Shepherd Looks at Psalm 23
So Help Me God ~ Roy Moore
My Utmost For His Highest
Then Sings My Soul ~ a book of hymns and their stories
Talks to Girls ~ Hunter
How to Be a Lady ~ Harvey Newcomb
Are You Liberal? Conservative? or Confused? ~ Richard J. Maybury
Beautiful Girlhood
His Lady ~ T.D. Jakes
With Christ in the School of Prayer ~ Andrew Murray
Carry On, Mr. Bowditch
The Birkenhead Drill
The Stouthearted Seven
Cabin in the North Woods ~ Charles Pearson
Cabin on the Prairie ~ Pearson
More Hours in My Day ~ Barnes
Journeys of Faithfulness ~ Clarkson
The Grandma's Attic Storybook
Video of the Week
 Dominoes…done in a whole new way!
The Recipe Box
 More Christmas recipes!!!
 Marshmallow Apple Salad
I specifically remember our Grandma bringing this to all of our get togethers, and we all LOVE it!
3 to 4 apples, chopped
1-8 oz. container of Cool Whip
approx. 1 c. grapes, cut in half
2 stalks of celery, diced
approx.  3/4 to 1 c. sour cream
3/4 to 1 c. chopped nuts (opt.)
1/2 to 1 bag of mini marshmallows
   Mix all together in a large bowl.  Keep refrigerated 🙂
Farmgirl Favorites ~ Favorite Christmas CD's
Click  here to hear some of the samples of "An Evening in December" 🙂
Click HERE  for samples of "The Majesty and Glory of Christmas"
Samples of "To God All Praise and Glory, Vol. 5"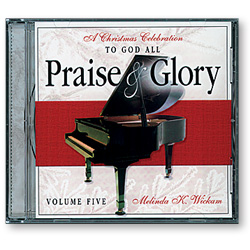 Cute Quotes
The older ones of us Seven Sisters are realizing how much our little sisters have missed out  in hardly knowing what a film camera is,  getting to be on the computer at a much younger age than any of us were (because computers were much different when we were their age!), etc.  : D  That makes us sound very old, but really, lots has changed in the past 15 to 20 years!
Mommy was cleaning and found a bag of undeveloped film.  She laid it on her computer desk and Charissa asked, "What are those?!"
When we were looking for a Christmas tree, we stick a weed or an old branch in a promising evergreen so that we can find it again if we want to come back to it.   After finding a tree that we thought was worth putting into our "favorites", Charissa asked, "Did we bookmark that Christmas tree?"
Noah and Isaiah were chasing each other, and Noah wanted to stop for a minute to take off his socks.  He called out to Isaiah, "Pause!  Isaiah, pause!"   Mommy said that when she was little, it was "times", not "pause"!
 There is this Christmas e-card that the little ones have seen, and they happen to think it is funny enough to copy…here's Noah's version of it 🙂  I personally like Noah's better than Daysprings 😀  If you can't see the video here on the blog, click HERE to see it.
    Note: The Seven Sisters Treasures is a weekly post where we share some of our favorite things.  We try to post  a new one every Friday.  Hope you enjoy!  ~The Farmgirls 
Subscribe to get our blog posts in your inbox!
Seven Sisters Treasures #19