This actually happened quite a while ago, April 25th 2008 to be exact, but I thought it would be fun to post about anyways : )
On April 25th, 2008, Cassia and I went with Mommy to help take care of Isaiah while Mommy was at a T-Tapp Masterclass at….the Crowne Plaza Hotel : )
I have this thing about fancy hotels–I love to explore them : D I guess it is because the fanciest hotel we ever stay at is Super 8, and that is not terribly fancy! Usually nice and clean, but not fancy.
I actually got this "hotel exploring" idea from another fun homeschool mom, when we went to the IAHE one year with her–we were a bunch of country girls, out exploring this fancy hotel…boy that was fun! But that is another story….
To start with, we had arrived at the Crowne Plaza a little late, so we rushed right to the room where the masterclass was, and we tried to keep Isaiah happy with Cheerios, Legos, and pushing him up and down the halls. I forget when we finally started to explore, but we soon found out it was very exciting! On the first floor was a glass elevator–neither Cassia or I had ridden in one before, so we took many pictures and/or videos of each other
going up–
and down–
and up–
and down a glass elevator.
If anyone in the lobby (where the elevator is located) was paying attention, they probably thought we were crazy!!! We tried to be as inconspicuous as possible, but it wasn't always easy!
Another place we spent a lot of time at, was on the second floor where there are actual train cars, made into hotel rooms. The whole area around the train cars is supposed to have the feel of a train station, complete with sculptures of people. We decided to get aquainted with some of them : )
Now mind you, whenever we saw, or heard someone coming, we quickly left off "playing" with the statues, and suddenly became two well behaved young ladies, taking their little brother for a walk! Not that we were doing anything wrong–it was just felt sort of strange for strangers to see us doing such goofy things : )
First, here is Indianapolis–the traffic was so jammed at one point, nobody could go when the light turned green!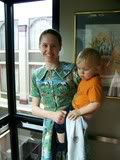 Here is Cassia and Isaiah in the glass elevator
Looking down at the lobby while riding in the glass elevator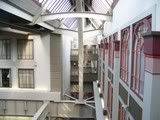 The second floor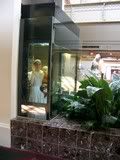 Me and Isaiah getting ready to go up
Isaiah and I, up on the elevator.
Cassia and Isaiah getting off the train : D
Cassia is trying to help keep this man's lungs healthy. He's trying to smoke : )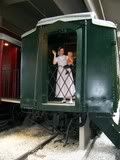 Isaiah and I are waving from the back of the train : D I got a picture of Cassia in this same pose, and while I was taking the picture, of course that's when some man decides to walk in, talking on his cell phone, and looking at us like we were strange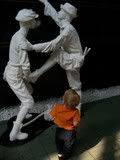 Isaiah is watching these ornery boys–they are trying to climb the train : )
He decided not to join them
This is a neat picture we got of a clock tower. At least it looked like a tower, and it had a clock on it, so I suppose that qualifies for "clock tower", don't you think?! It is 4:31 p.m. on that clock : )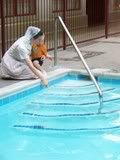 We also went in to see the pool, and get our feet wet–Isaiah did not want to get wet one bit! After we were in the pool area for a while, we noticed a sign that said that only the "hotel patrons" were supposed to use this area. I guess in a way we were "hotel patrons", but we decided we better leave, just in case!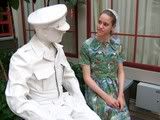 Cassia is listening to this most interesting man. He was kind of quiet though, you really had to draw a conversation out of him!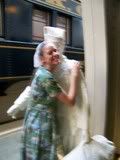 And this one made her so happy she gave him a hug .
The reason it is blurred is because we did it fast, not wanting the hotel cleaning ladies to walk in on us while we were hugging statues!!!
I decided I would just shake his hand : )
Cassia decided to buy a paper from this little boy.

And of course, the whole reason we were here at Crowne Plaza! Mommy got her picture taken with Teresa Tapp : ) She is a very nice lady ( Of course Mommy is nice, too!) Teresa Tapp even let us get her autograph : D
So now you can see what two country girls do in the city when nobody is looking : D
Bye!
Subscribe to get our blog posts in your inbox!